Latest version:
7.83.956
Welcome to the home page of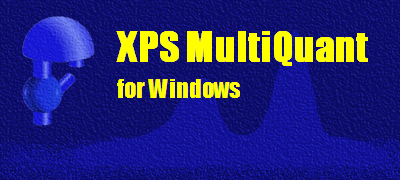 XPS MultiQuant is a quantitative evaluation program for X-ray Photoelectron Spectroscopy, serving as a practical and universal tool for the surface analyst. It applies the 'classic' methods of the quantitative calculations using the integrated intensity of the measured XPS lines.
Main features are:
Built-in library with all necessary basic data for the quantification, including theoretical and experimental cross sections, asymmetry parameters, line energy data, etc.
All of the usual factors and correction methods, including cross section values, asymmetry parameters, analyser transmission, IMFP, contamination by the adventitious carbon can be applied and controlled independently.
Numerous quantification models
(Homogeneous, Oxide-Layer, Layers-on-Plane, Layers-on-Sphere, Layers-on-Cylinder, Layers-on-Nanotube, Islands-on-Plane, Islands-on-Sphere, Islands-on-Cylinder, Layers-on-Polyhedron, Islands-on-Polyhedron). Definition of models is thoroughly checked before calculation
Parameters of structured models can be calculated automatically by least square fitting or manually by interactive iteration.
Calculation of several samples or experimental data sets (e.g., series of ion bombardment or heat treatments, etc.) can be performed simultaneously.
Compositional results can be presented in various forms (Atomic %, Atomic ratio, Oxide molar %, Oxide molar ratio, Mass %, Mass ratio, Oxide mass % or Oxide mass ratio).
Experiments can be labelled (Name, Time, Temperature, etc.); further notes can also be attached to the data sets.
Results and model layout can be displayed graphically; can also be stored, printed and exported to other applications.
Calculation of layer thickness on curved surfaces and nanotubes.
Calculation of layer thickness for angle dependent experiment sets ('ARXPS').
Communication with other XPS related application through XPS Reduced Data Exchange Files.
Equipped with the widely used Windows interface and full text online help. Comprehensive User's Manual and Application Examples in electronic form.
Fast and user friendly!
XPS MultiQuant is freeware for non-commercial use. Look at the examples and download the program if you consider it useful. The author would be indebted if you send your questions, comments and suggestions for further development. See the Release Notes for the latest version.